When DoBee Plaisance took over the Nicholls women's basketball team in 2008, the program was in the wrong place.
But today – more than a decade later – the Colonels hang banners and are known as an annual candidate for the Southland Conference.
How? With the faith, knowledge and wisdom of their leader who says she loves every day at work.
Plaisance was at Nicholls 14 seasons and in that time transformed Nicholls from a 2-25 program into a team that won the Southland Conference Championship in 2018.
Plaisance said coaching is a passion, adding that she loves seeing young people become better players and people through sport.
"I have been extremely blessed with the number of players who stay in touch, always seek mentorship and really reflect on how they use our core philosophies of positivity, service, commitment, responsibility, faith and always see obstacles as opportunities. daily life and this inspiration always motivates them," said Plaisance. "When former players continue to make the difference, those are the real championships."
Basketball is in Coach DoBee's blood.
She played in her early days, rising to the college level.
She then moved into coaching, serving briefly as a collegiate assistant coach before coaching at St. Martin's for 8 seasons. She then returned to college, spending 13 seasons as a head coach at Loyola before coming to Nicholls where she has been for 14 years.
Plaisance said she wasn't bitten by the training bug early on, but it found her. She said she wanted to be a nurse like her nanny, and when she went to college she was "bitten" by the virus.
"For me, I've always been wired to serve and empower others," she said.
In its time, success followed Plaisance at every step. She is inducted into the St. Martin's and Loyola Hall of Fame. At Nicholls, she is the winningest coach in school history and the school's only 100-win coach.
But basketball is also part of Plaisance's life as a mother.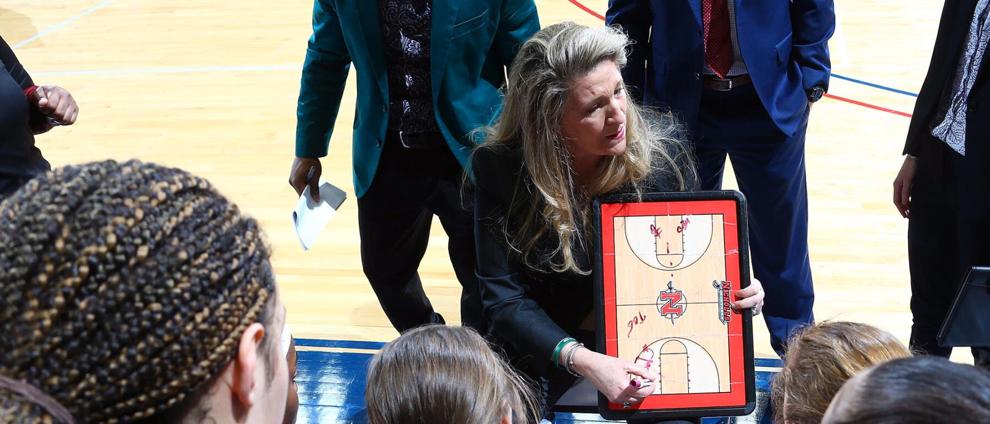 She is married to Scott Plaisance. Together, the couple have two children: Theresa and Scott Jr. Both children are professional basketball players. Theresa was a standout at LSU who has been in the WNBA since 2014 — now with the Las Vegas Aces. Scotty played for the UNO and is now an overseas player, traveling the world with the game he loves.
Plaisance said she loved coaching, but also loved being a mom. She said she loved following her kids and being their biggest fan.
"I'm so humbled and blessed," Plaisance said. "As a parent, all I've ever wanted and prayed for my children is that they grow up to be good people and do good for others," Plaisance said. "Having the opportunity to be professional athletes and all of the incredible experiences that have been afforded to them through their hard work is a bit of a lagniappe."
Going forward, Plaisance said she's looking forward to getting the Colonels back on track after a difficult 2021-22 season in which the team struggled with youth, injuries and inexperience. When asked what advice she would give her childhood to prepare her for what lay ahead, Plaisance said she would tell herself to always keep aiming for the stars, while keeping her family close.
"As much as I focus on the little things, I would invest more in the little things," Plaisance said. "I value love, laughter, family, relationships, God and really making a difference. But as much as I did, I would tell my younger self that you can do even more.